is the lightest multiband GNSS board in the market (7.8g only).  Based on u-blox ZED-F9P module, it can work as a standalone product to provide cm level precision or as moving base in combination with the simpleRTK2B board to provide extremely accurate heading.
Centimeter level precision
<1cm precision with base-rover
<1cm precision with NTRIP corrections
<5cm precision with SSR corrections
<1.5m in standalone mode
<1m in standalone mode with SBAS coverage
Advanced configurations
Unleash your creativity with simpleRTK2B. It supports multiple rover configurations, moving base, …
Suitable for drones and ultra-lightweight projects
6pin JST-GH connector for Pixhawk + EXTINT pin for photogrammetry applications (both are not shown in the protoype pictures but will be available in the production version)
Multi-band
Typical convergence times of modules based on:
– Single band RTK (NEO-M8): <60s
– Multi band RTK (ZED-F9P): <10s
• Reduces convergence time
• Increases ambiguity fixing rates
• Increases overall cm-level position availability
Multi-constellation
• GPS & GLONASS: readily available in L2C/L2OC
• Galileo: full E5b constellation by ~2020
• BeiDou: B2I available until migration to B2a
Raw GNSS measurements
Read the raw data from the satellites without any post-processing
Radio link flexibility
simpleRTK2Blite can be used with almost any radio link: wifi,  BT, ISM, … with XBee format by stacking it on top of the module. We offer 3 options: medium range, long range and 3G. Check our store to learn more!
simpleRTK2Blite supports different operating modes, is extremely flexible and is compatible with your existing radios and simpleRTK2B boards
Standalone – simplest way of reaching 1m position accuracy without range limitations
The most basic configuration is to use simpleRTK2Blite as a standalone GNSS application board.
Connect it to your ultralight weight project and get your position in seconds.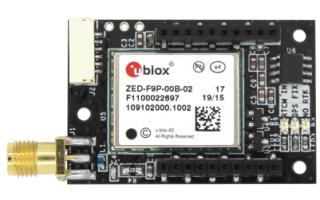 Heading – get extremely accurate heading without range limitations
This is the first low cost, ready to used module with the moving base capability.
Simply stack the simpleRTK2Blite on top of the simpleRTK2B board and place the two GNSS antennas where you want to measure the heading.
Heading and baseline distance will be calculated online, without any kind of postprocessing.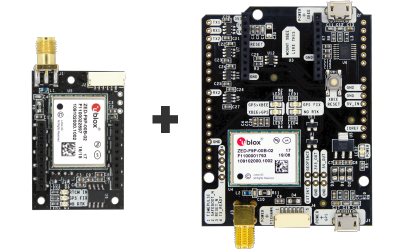 RTK positioning – get cm level accuracy
Use the simpleRTK2Blite with RTK corrections exactly like the bigger simpleRTK2B board:
Use a base-rover or base multi-rover configuration to supply corrections with your favorite radio module in XBee format
Supply NTRIP corrections via your computer, 3G modem or smartphone via Bluetooth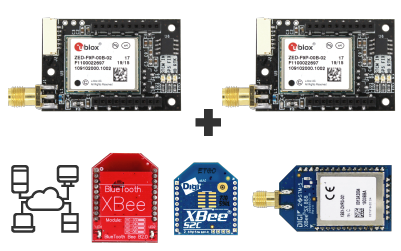 RTK positioning + heading – get cm level accuracy and accurate heading
Combine simpleRTK2Blite with simpleRTK2B and your preferred corrections source to get extremely accurate readings of position and heading.
Provide corrections from a base station
Supply NTRIP corrections via your computer, 3G modem or smartphone via Bluetooth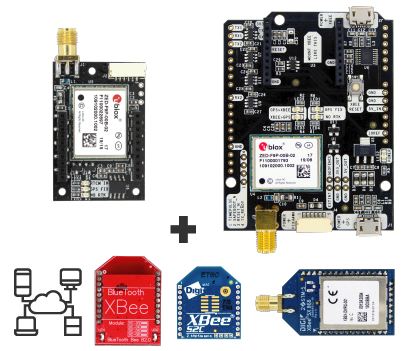 simpleRTK2Blite technical details
Mechanical:
Download the 3D model
XBee form factor 41x28mm, weighing only 7.8g
Supports all XBee radio modules via 2mm 10pin headers
External GNSS SMA connector
External JST-GH 6 pin connector for Pixhawk users
EXTINT pin available
Electrical:
Can be powered via XBee headers / regulated source @ 3.3V
Can be powere @5V via the JST-GH (Pixhawk) connector
Protected against GNSS antenna short circuit
Power consumption: 80mA @ 3.3V without antenna
                                    100mA @ 3.3V with ANN-MB-00 antenna
Features:
Works as a standalone board (one board operation without radio)
Works in base-rover/base-multi rover configuration
Works in moving base configuration (combined with a simpleRTK2B)
Runs with ZED-F9P GNSS module, check these two links for detailed information: u-blox description and u-blox product summary.
The ZED-F9P GNSS module can be configured via UART1 (with supplied UART to USB converter) and u-blox u-center application
simpleRTK2Blite has 3 LEDs: RTCM IN, NO RTK and GPS FIX