User Guide: RTK Handheld Surveyor Kit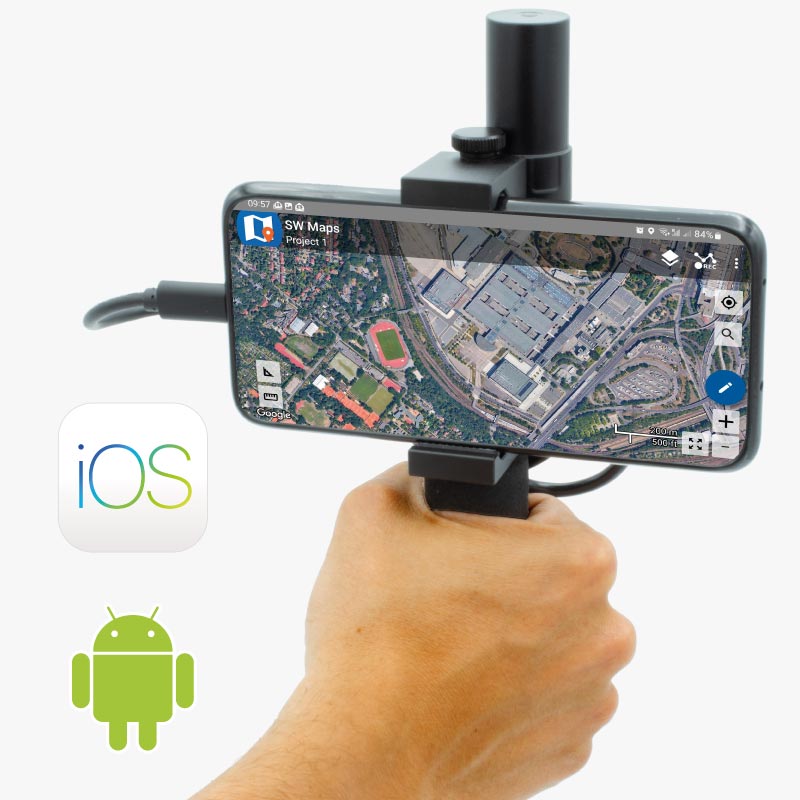 Portable survey performance that fits your hand. Includes accessories.
With the RTK Handheld Surveyor Kit you will have everything you need to start your surveying tasks with RTK and centimeter level accuracy.
Remember all the component parts of this professional kit:
– ZED-F9P RTK receiver with USB and Bluetooth inside a plastic case
– Helical antenna
– USB-C cable
– USB OTG microUSB-B (14cm)
– USB OTG type C (22cm)
– Universal smartphone holder with 3M-Backed Rubber Pads, fits any smartphone from 5.3cm to 9.3cm with or without case
– Hand holder
– Velcro strap (20cm) to fix the receiver to the back of the smartphone holder
The kit is pre-configured to send NMEA data simultaneously via Bluetooth and USB.
1. Mount the 
Universal
smartphone holder to the hand holder. You will see that the screw end of the hand holder fits with the smartphone holder hole.
2. Mount the plastic case (ZED-F9P RTK receiver with USB and Bluetooth within) to the smartphone holder. You will find the plastic case in a small box along with the helical antenna. To do this, fit the flat edge of the case with the outher part of the smartphone holder with the SMA connector facing up, and fasten it together with the velcro strap.
Connecting to your smartphone
Make sure your device supports Bluetooth 2.0 or has USB OTG capabilities.
Make sure your Android language is set to English, since some users reported compatibility problems with other languages.
Place your RTK Handheld Surveyor Kit in a location with good view of the sky, or near a window for testing the functionality.
Download compatible software/app  which you prefer to use from Google Play and install it in your device. We prepared step-by-step instructions how to use RTK Handheld Surveyor kit with several software/app:
How to use RTK Handheld Surveyor Kit with SW Maps?
CONNECTION VIA USB OTG
CONNECTION VIA BLUETOOTH
CONNECTION VIA USB OTG
The best option (if your device supports it) since you can power and communicate with it at the same time
Open SW Maps app and give permissions (first time only)
Click on the SW Maps icon to show the app menu

Under Devices, you should see FT232R USB UART. Set BaudRate to 38400bps.
Set Instrument Model to u-blox RTK.
CONNECTION VIA BLUETOOTH
Since you have a RTK capable GNSS receiver, let's connect it to a NTRIP server to get cm accuracy. Go back to SW Maps menu and select NTRIP Connection

Fill all the fields with your NTRIP provider data. Make sure to check Send NMEA GGA to NTRIP Caster if you are connecting to a VRS.

You can see some details of your Ardusimple receiver by going to the SW Maps menu and selecting GPS Status or Skyplot.


In the main screen, you can click the button shown in the below picture to make the app center the map in your receiver location. The pointer showing your location will change its color depending on the fix status of your receiver. You can change the map layer, add points, tracks, export/import recorded locations and much more.

You can get used to the SW Maps app by trying the different options, but if you are looking for a manual you can find it here: http://swmaps.softwel.com.np/
How to use RTK Handheld Surveyor Kit with Other software?
If you need to use  RTK Surveyor Handheld kit with any other software, we will explain how to configure Ardusimple RTK receivers to be used as mock location for Android smartphones/tablets in order to get centimeter position accuracy.
If you are not familiar with the term, mock location means that you cheat your Android device to use an external GNSS receiver as if it was its own internal one. This has the advantage that any GPS/GNSS app that works with your Android device can benefit of centimeter level accuracy.
Step 1:
This step only needs to be done once.
We will use Lefebure NTRIP Client app both to get NTRIP corrections and to use mock location for Android. Go to the Play Store and install the app, we will configure it later.
Step 2:
This step only needs to be done once.
To enable mock locations in Android we will need to get Developer permissions. The procedure may vary slightly between different Android versions and smartphone models (you can Google your "Smartphone model + enable mock location" if you can't find the exact options).
On Android 4.1 and lower, the Developer options screen is available by default. On Android 4.2 and higher, you must enable this screen. To enable developer options, tap the Build Number, MIUI version or similar option 7 times. You can find this option in one of the following locations, depending on your Android version:

Settings > About Phone > Build Number
Settings > System > About Phone > Build Number
Once you have access to Developer options, you can go to Settings > Additional Settings and at the bottom you will find Developer options. In this big list, tap Select mock location app and select Lefebure NTRIP Client from the list.
Step 3:
Power any of your professional kits by connecting their USB cable to your smartphone/tablet/power source. If you get any popup message to connect the USB device with any app, you can ignore it (unless you want to connect via USB OTG, which is covered in this other tutorial)
Enable your smartphone/tablet Bluetooth, and pair it with your professional kit.
When pairing your device, notice that it may appear as simpleRTK2B or as a generic MAC number (e.g.: F0:0A:95:9D:68:16). The password is always 1234. The pairing only needs to be done once.
Step 4:
Open Lefebure NTRIP Client

Click on the gear icon to enter the setup menu.

Select Receiver Settings and set:
Go back to the main settings menu and select NTRIP settings.
Set your NTRIP service credentials (Caster IP, Caster Port, Username and Password).

These are Ardusimple credentials shown only as an example, use your own 🙂
These settings need to be done only once unless you change your NTRIP credentials.
Go to the main screen and click the CONNECT button.
Once the connection with the server is stablished, the app will ask you to select the NTRIP station from which you want to receive the corrections.
If everything is properly set you will see a yellow progress bar that will download corrections continuously.

Step 5:
Open your favorite GPS/GNSS application and use it as usual. You will be using the external RTK GNSS receiver instead of the smartphone/tablet internal GPS receiver.
We have tested this functionality with many apps, you can find them in this
link
.
If you test it in other apps, you can send us an email at info@ardusimple.com and we will add it to the list.
The Android robot is reproduced or modified from work created and shared by Google and used according to terms described in the Creative Commons 3.0 Attribution License.
EU Conformity & RoHS Certificates
Any questions?
Contact us to get answer within 24hours!