There are numerous GIS applications that are compatible with our devices, but SW Maps is our preferred one. It supports u-blox F9P modules, has an integrated NTRIP client, is light and free.
In this step-by-step tutorial we will explain how to connect ArduSimple products to your Android device and use it with SW Maps.
USB OTG cable (optional if you want to connect via USB)
a power bank (optional if you want to connect via Bluetooth)
a smartphone or a tablet
How to use RTK receiver with SW Maps on Android devices?
Make sure your device supports Bluetooth 2.0 or has USB OTG capabilities.
Make sure your Android language is set to English, since some users reported compatibility problems with other languages.
Download SW Maps app from Google Play and install it in your device.
Connect the GNSS antenna to your device, in a location with good view of the sky, or near a window for testing the functionality.
There are two options of connection: via USB OTG and via Bluetooth.
If you are connecting via USB OTG, be aware that the OTG cable should be directly connected to your smartphone.
CONNECTION VIA USB OTG
CONNECTION VIA BLUETOOTH
CONNECTION VIA USB OTG
The best option (if your device supports it) since you can power and communicate with it at the same time
Open SW Maps app and give permissions (first time only).
Click on the SW Maps icon to show the app menu.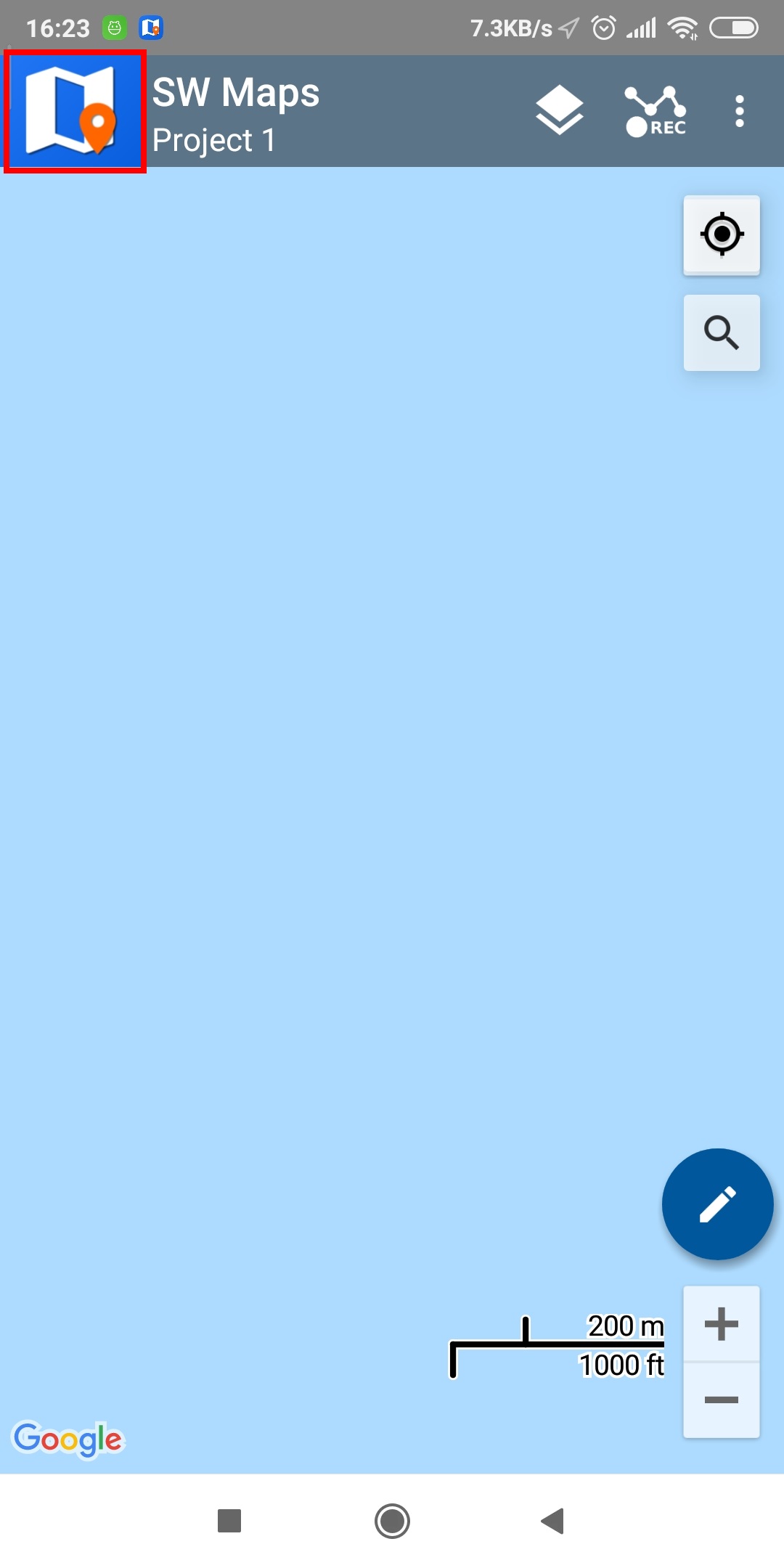 Select USB Serial GPS.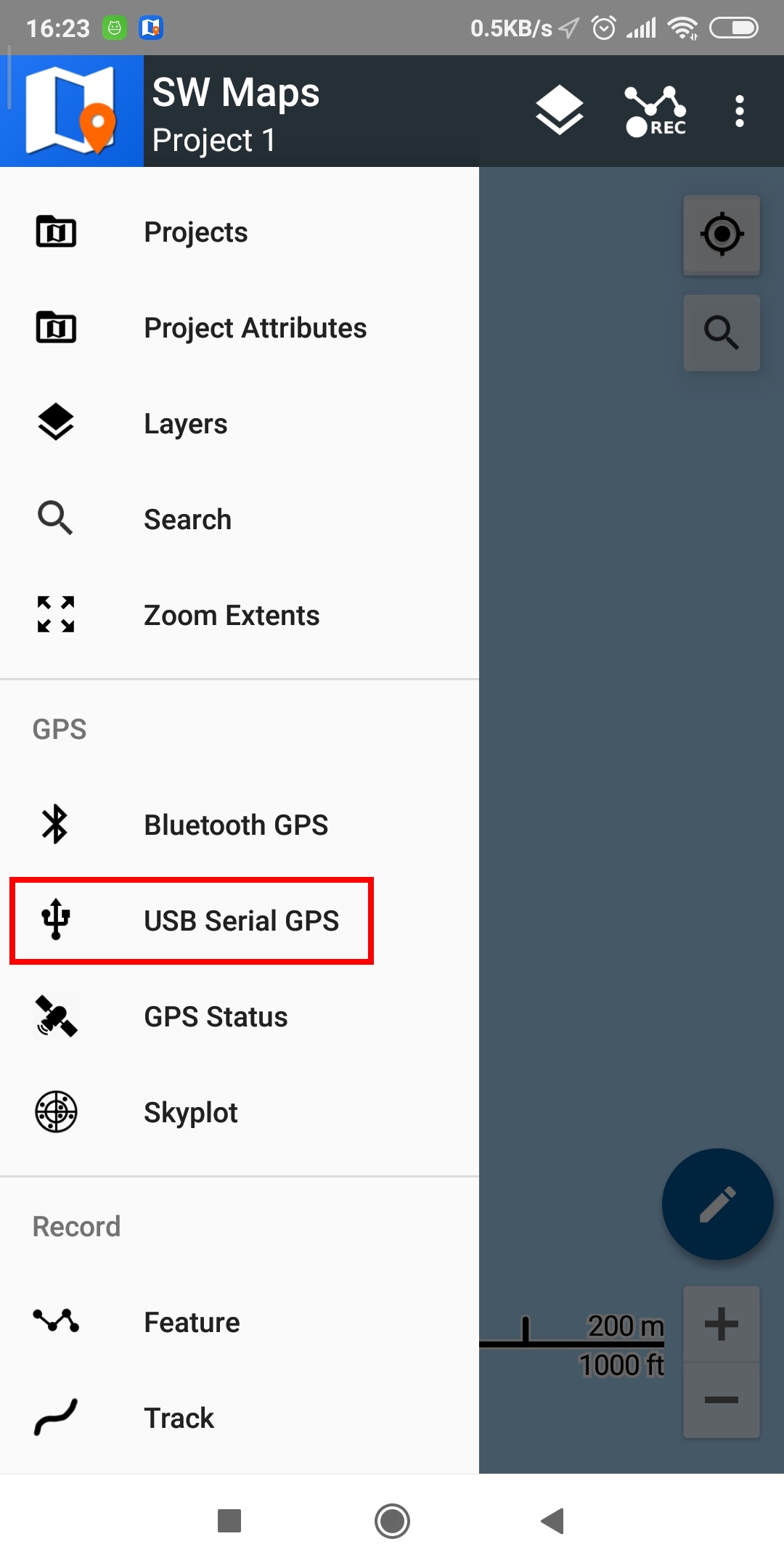 Under Devices, you should see FT232R USB UART. Set BaudRate to 115200 bps (if you ordered your Professinal kit before 09.10.2023, set BaudRate to 38400 bps).
Set Instrument Model to u-blox RTK. Set the Instrument Height according to the height of your pole or antenna, if you want to measure the location of the ground.
Click CONNECT button. When you click the CONNECT button, grant permissions (if asked).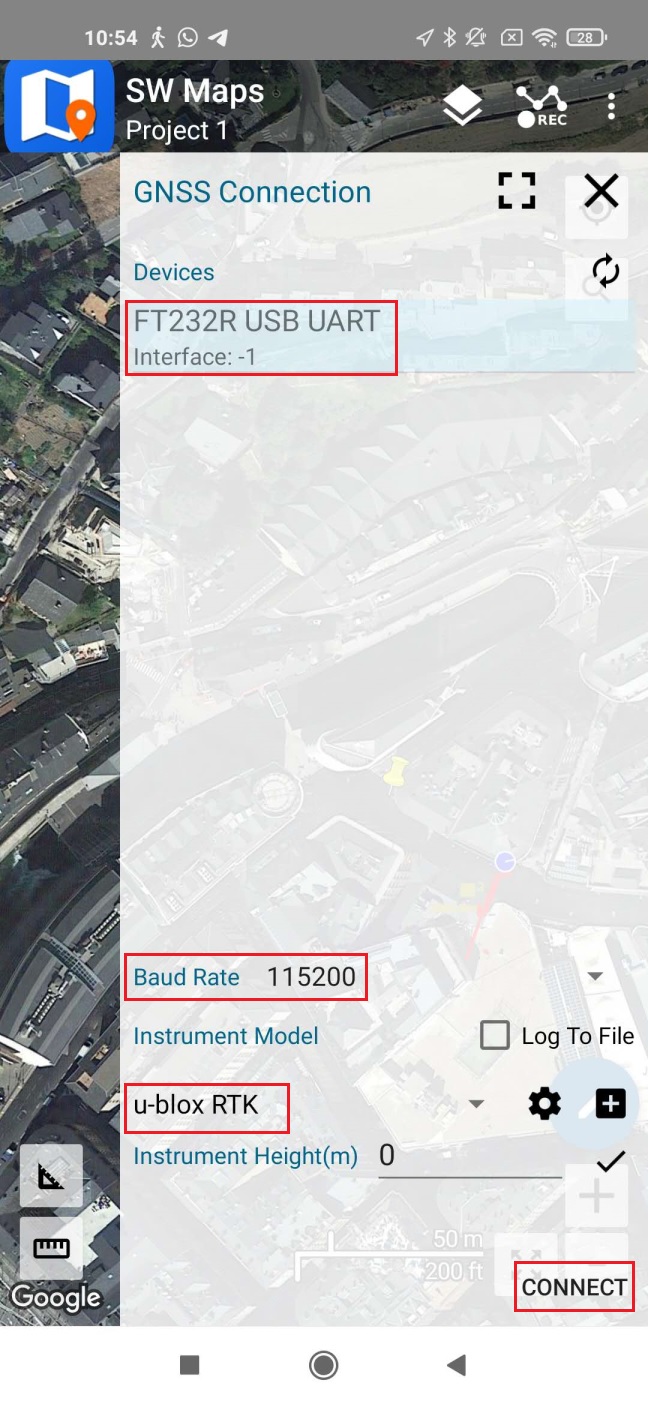 CONNECTION VIA BLUETOOTH
Since you have a RTK capable GNSS receiver, let's connect it to a NTRIP server to get cm accuracy. Go back to SW Maps menu and select NTRIP Connection.
Fill all the fields with your NTRIP provider data. Make sure to check Send NMEA GGA to NTRIP Caster if you are connecting to a VRS.
You can see some details of your Ardusimple receiver by going to the SW Maps menu and selecting GPS Status or Skyplot.
On the main screen, you can click the button shown in the below picture to make the app center the map in your receiver location. The pointer showing your location will change its color depending on the fix status of your receiver. Additionally, you have the option to adjust the map layer, include points, tracks, as well as import or export recorded locations, among other features.
You can get used to the SW Maps app by exploring its various options.  If you prefer a guide, you can access the User Manual here.
For more guidance on utilising an RTK receiver with SW Maps on your Android device, check the ArduSimple tutorials:
If you want to do this tutorial, we have all the products in stock and ready to be shipped: