4G NTRIP Client Hookup Guide
If you recevied 4G NTRIP as part of a simpleSSR kit, you don't need this tutorial, use the simpleSSR hookup guide.
Hardware overview:
The 4G NTRIP Client is the easiest way to connect your simpleRTK2B board to your preferred NTRIP service. Just configure your NTRIP credentials and SIM Card parameters, introduce your SIM card, and let the module do the rest! In this guide we will explain you everything you need to know about this accessory.
The module has the following connections:
XBee socket. This module is only compatible with High Power (HP) XBee Sockets.
2x uFL (also called IPEX) connectors for the radio communication. It is recommended to use both antennas for best performance.
microSIM holder, like your mobile phone.
Status LED:

OFF: device OFF or in firmware upgrade mode
ON: boot
Fast blink (5 blinks/second): all good! device in run mode
Slow blink (1 blink/second): device in command mode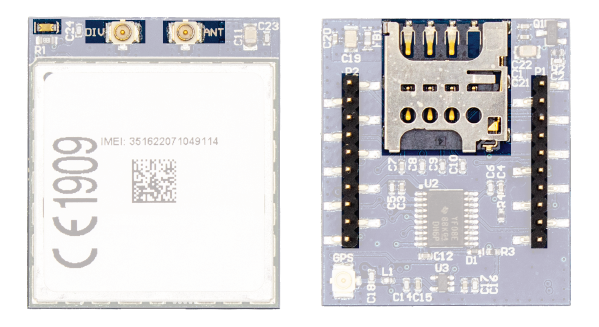 Variants:
Due to local regulations we had to design 2 variants:
Europe: for Europe, but also Middle East & Asia, compatible with:

4G Bands (MHz): B1(2100), B3(1800), B7(2600), B8(900), B20(800)
3G 

Bands (MHz)

: B2(2100), B8(900)
2G 

Bands (MHz)

: B3(1800),B8(900)

North America: For USA* & Canada, compatible with 4G and 3G networks.

4G Bands (MHz): B2(1900), B4(1700), B5(850), B12/B13 (700)
3G 

Bands (MHz)

: B2(1900), B5(850)
*Only compatible with AT&T, T-Mobile and virtual operators working on these networks. Not compatible with Verizon SIM cards.
The variants might be compatible with other countries, but there's no easy way to generalize a name for it. If this is your case, check the compatibility table in the product page, or contact us and we will check if one of the variants is compatible with your country.
Parameters file:
In order to configure the 4G NTRIP Client, you will have to create your own Parameters File.
Fill in the gaps and click on "Generate Parameters File". Store this file as we will use it later. You can change the name of the file to keep in your PC different Parameters Files.
SIM card settings
SIM PIN:
APN name
Enable roaming? (yes=1, no=0)
NTRIP Client settings
NTRIP Server name
Server port
NTRIP credentials
NTRIP mountpoint