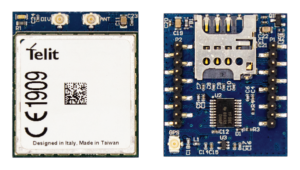 affordable SSR corrections board that allows RTK receivers to achieve centimeter level accuracy without the need of a base station. In XBee form factor for easy integration with simpleRTK2B Multiband RTK receiver or a ZED-F9P design of your own.

Sapcorda technology inside
Sapcorda Services GmbH is a joint venture of Bosch, Geo++, Mitsubishi Electric and u‑blox. Sapcorda's high precision GNSS augmentation services (SAPA) provide homogenous correction data with continental coverage. SAPA services are tailored to empower mass-markets, especially for business-critical and safety-critical applications.
SSR technology
Also called PPP-RTK, State Space Representations provide RTK-like performance over large areas
Coastal waters coverage
Go up to 20km from the coastline while keeping centimeter accuracy in your marine application.
Centimeter level precision
Sub 4 centimeter CEP accuracy in all the coverage area, no matter how far away from the base station.
Literally plug & play
Forget about making complex base station installations, setting up NTRIP credentials, or minimum quantity requirements. Literally just plug and wait for your receiver to reach RTK FIX.
Subscribe to get updates!
Multi-band & Multi-constellation
GPS: L1 C/A, L2P, L2C
GLONASS: L1 C/A, L2 C/A
High availability
Above 99% up time thanks to a strong redundancy concept in service infrastructure.
Low power
Thanks to its extremely efficient SPARTN protocol, data consumption can be reduced up to 50-75%, compared to traditional RTK-OSR services.
Do you have any questions?
everything you need to know about simpleSSR receivers
simpleRTK2B+simpleSSR Performance:
Horizontal accuracy: <4 centimer CEP in all coverage area
Initialization time: <60 seconds from boot to first RTK fix
Re-acquisition time: <5 seconds
Correction data availability: >99%*
Communication method: Internet, TCP/IP
*Except in cross border tests, roaming operator changes can interrupt service for up to 3 minutes.
simpleSSR coverage:
In all territory marked in green and up to 20km from the coastline marked in blue. Upcoming regions marked in orange.
Continental North America:
Actual: Alabama, Arizona, Arkansas, California, Colorado, Connecticut, Delaware, Florida, Georgia, Idaho, Illinois, Indiana, Iowa, Kansas, Kentucky, Louisiana, Maine, Maryland, Massachusetts, Michigan, Minnesota, Mississippi, Missouri, Montana, Nebraska, Nevada, New Hampshire, New Jersey, New Mexico, New York, North Carolina, North Dakota, Ohio, Oklahoma, Oregon, Pennsylvania, Rhode Island,

South Carolina,

South Dakota, Tennessee, Texas, Utah, Vermont, Virginia, Washington, West Virginia, Wisconsin, Wyoming.
Upcoming:

Southern part of Canada.
Europe:
Actual: Austria, Belgium, Bulgaria, Croatia, Czech, Denmark, Estonia, Finland, France*, Germany, Greece, Hungary, Italy*, Eastern Ireland, Latvia, Lithuania, Luxembourg, Netherlands, Norway, Poland, Portugal, Slovakia, Slovenia, Sweden, Switzerland, Spain*, UK.
(* Excluding Islands: Canarian, Balearic, Corsica, Sardinia)
Upcoming: Ireland, Romania
Plug-and-play evaluation tools
 simpleSSR – Starter Kit
Is it your first time with ArduSimple? This is the simplest way of reaching centimeter level accuracy.
RTK Receiver, RTK-SSR Corrections Receiver and 1 year unlimited data plan and RTK-SSR correction service, all pre-configured and ready to use out of the box.
Literally just plug, wait 1 minute, and enjoy centimeter level precision. No need of base station nor complex configuration steps.
simpleSSR – 1 year unlimited RTK corrections for 4G NTRIP Client
Do you already own an ArduSimple 4G NTRIP Client and the base station of your service provider is too far away? Just get our product upgrade and forget about the distance to your base station.