Antenna calibration files are used to increase even more the accuracy of GNSS measurements.
If you have a double or triple band calibrated antenna, you can use their ANTEX and ANTINFO calibration files available from NOAA for post-processing.
If you have a simpleRTK3B Pro (Septentrio Mosaic-X5) or simpleRTK3B Heading (Septentrio Mosaic-H) GNSS receivers, you can use this calibrations directly for RTK positioning.
The process is extremely easy, you don't even need to download the ANTEX/ANTINFO files from NGS/NOAA:
Connect your receiver to your PC via POWER+GPS USB port
Open a browser and go to http://192.168.3.1/
Go to Admin > Upgrade and make sure you have the latest firmware.
Mosaic X5 firmware should be >= 4.10.0.1
Mosaic H firmware should be >= 4.9.1
If you don't have the latest firmware, please check Septentrio website and update it
Go to GNSS > Position > Antenna Information > Antenna type
Select your ArduSimple (or other vendors) antenna
Click Ok, and Save the configuration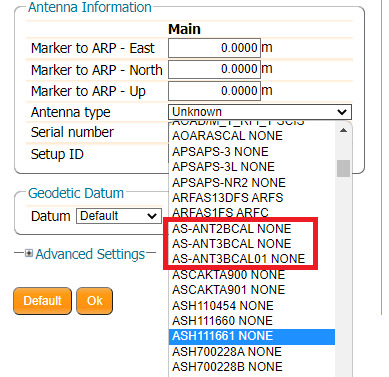 That's all!