In this tutorial you will learn how to generate RINEX files from your simpleRTK3B board powered by Septentrio Mosaic RTK module. These files are useful to do PPK (post-processing).
simpleRTK3B doesn't have onboard datalogging, so you have 2 options to generate RINEX files:
Option A: with a Serial Datalogger connected to the socket. The advantage of this option is you can go in the field without PC, do your job, and then take our the SD card. The disadvantage is that you can only record up to 1Hz RAW data.
Option B: via USB connected to a PC running RxTools software. The advantage of this option is that you have no limit with the update rate, but you will have to carry your laptop/tablet with you.
For both options you will also need to install Septentrio RxTools software.
Option A with a serial datalogger:
Plug your Serial Datalogger to MicroSD on the XBee socket.
Connect to the Septentrio web interface. If you don't know how to do it check out the simpleRTK3B hookup guide.
Configure COM2 with the correct baudrate, for our example 57'600bps. You can do this from "Communications" Tab> Serial Port > COM2 > 57'600bps > OK.

Enable SBF data output containing information for Rinex generation. Go to "NMEA/SBF Out" Tab and selecting New SBF Stream, Serial Port connection and Rinex SBF block as shown below.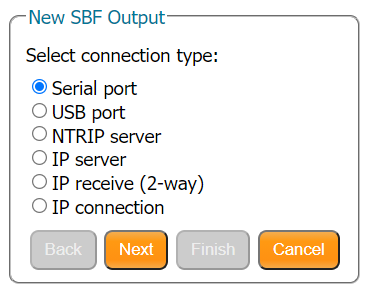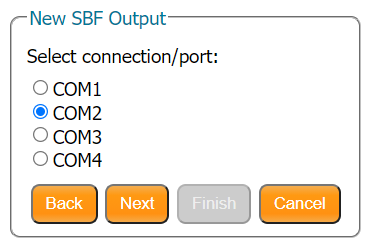 Save the settings so after reset the configuration remains.
Do your measuring job. If you want to separate logfiles while doing your job, you can press the XBEE RESET button to start a new file.
Connect the SD card to your PC, store the files and simply rename them from .TXT to .SBF
Once the SBF data is available then the SBF Converter GUI tool (part of RxTools) can be used to convert binary data into RINEX format as shown below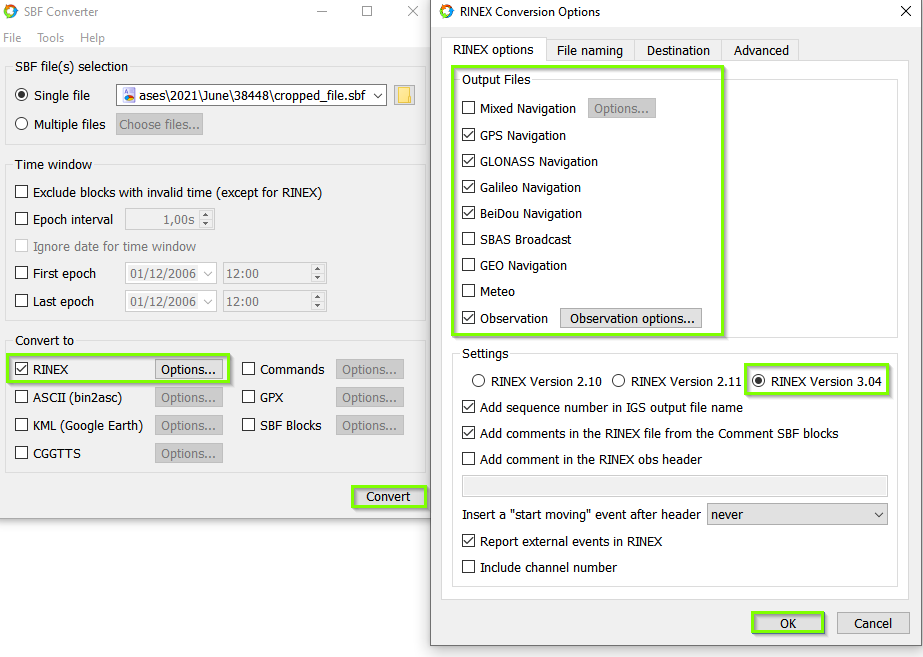 Option B, via laptop running RxTools software:
Connect your simpleRTK3B to your PC and connect to it using RxLogger software (part of RxTools). Enable SBF data output and logging as in the following picture: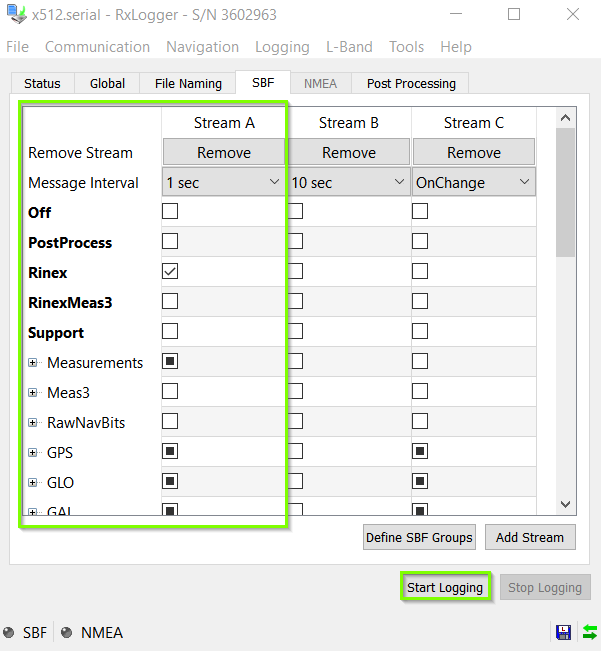 Once the SBF data is available then the SBF Converter GUI tool (part of RxTools) can be used to convert binary data into RINEX format as shown below: