PCB Integration Guide - simpleRTK2B mPCIe
Product briefing:
This product uses a standard footprint: Mini PCI Express (mPCIe).
The product supports both half size and full size mPCIe, you can choose which format you prefer.
If you already have an embedded computer with this type of socket, just plug our card inside in the matching size.
If you are developing your own board with this socket, then we recommend the half-size: smaller, more rugged and same performance.
To integrate this product, you will have to add a standard connector to your board, together with a mounting hole in the correct location to fix the board with a screw or a clamp. A recommendation that we can give you is to not use cheap receptacles. Cheap receptacles (especially popular from unknown chinese suppliers) use very contaminated metals for the contacts, which leads to sporadic failures in the field and early death of the socket contact. We can recommend the top quality TE 2041119-1.
Pinout:
The following diagram shows the different pins available including its functionality.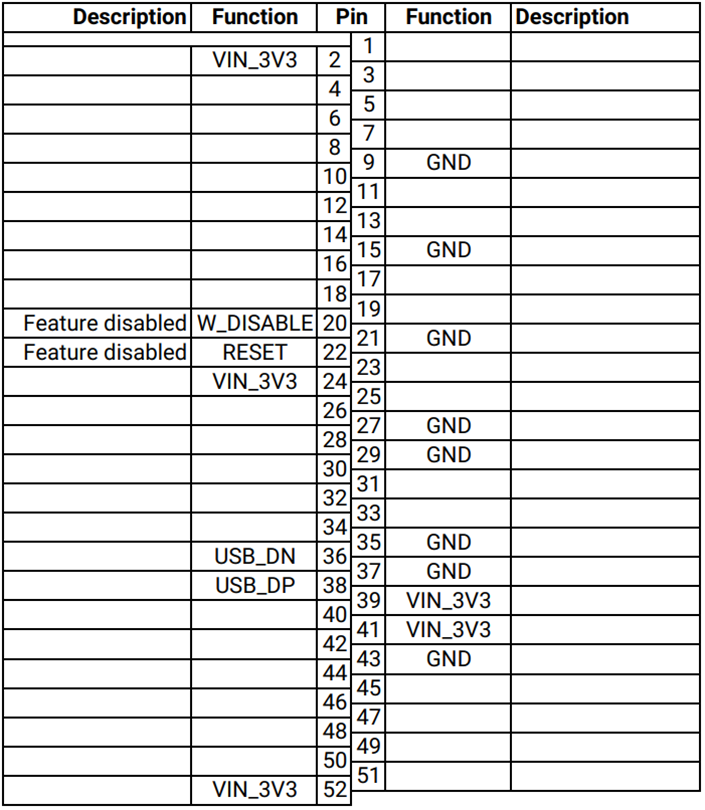 Currently only power and USB lines are implemented to be 100% compliant with the standard. If you have any specific needs you can always contact us.
PCB Footprint:
You can download the PCB footprint from this link
Integration Considerations
The one peculiarity of a GPS system is that the RF signals it works with, are extremely weak (down to -170dBm!). For this reason, GPS systems are especially delicate and not immune against noise.
Between the GPS receiver and the GPS antenna, the GPS antenna is by far the one with the most critical installation. We want to give you some tips to make sure you integrated your ArduSimple receiver and it works at the first attempt:
GPS receiver. This part of the system doesn't like airflow, vibration and sudden temperature changes. Just try to avoid that: pick the location in your vehicle with the lowest vibration, try to use it inside a box and far away from any fan, and don't place the board next to an electric engine that can go from cold to very warm in a matter of seconds.
GPS antenna. For this item we have a separate guide we recommend you to follow and it's our GPS/GNSS Antenna Installation Guide.
Configuration and Software Integration
With this product you have direct access to ZED-F9P functionalities, it will help you to read the extensive u-blox documentation. Nevertheless you can use our configuration files as a starting point for your project. And if you need help at any point just contact us, we always answer.