Ethernet NTRIP Master Hookup Guide
Your Ethernet NTRIP Master is compatible with the following products:
In this hookup guide we will talk about:
Overview and installation
The Ethernet NTRIP Master is an accessory that allows to connect your simpleRTK2B or simpleRTK3B board to a Ethernet network.
With the current firmware you can use this accessory as a NTRIP Client to provide corrections to your GNSS receiver. You can also turn your device as a server to allow other devices to connect to it, for example, to receive corrections or to monitor its status remotely.
The module has the following connections:
XBee socket. This module is compatible with all our products with XBee sockets (simpleRTK2B, simpleRTK2Blite, simpleRTK3B, …).
microUSB connector. We use it to update its parameters or to load new firmware. Notice that this connection does not power the Ethernet NTRIP Master, you always need to plug it into a XBee socket.
Ethernet connector. You need to plug an Ethernet cable to it. Connect the other end to your computer or a router for remote access.
BOOT button. Use it to load firmware (see instructions below).
LEDs. Blue LED shows if the Ethernet NTRIP Master board is powered on. Multicolor LED is Red if there are hardware connection problems and turns Green if everything is ok. This LED will toggle if incoming/outgoing data is being transmitted.
To install this device, simply plug it into a GNSS receiver with XBee socket and power the receiver.
In normal operation there is no need to use the microUSB connector on it (we use it only to configure it).
Make sure your GNSS receiver is configured to receive RTCM at the proper UART port at 115200bps.
To use the Ethernet NTRIP Master as a TCP/UDP server you have these ports available:
Port 28784 (TCP): this port allows you to

listen and also to send commands

to your GNSS receiver. If you connect to this port, the NTRIP Client will be stopped temporally until you disconnect from it.
This is the default port for Septentrio RxTools.
Port 28785 (TCP): this port allows you

only to listen

to the messages being sent by your GNSS receiver. If you are using any other functionality, it won't be affected by it.
Port 28786 (UDP): this port allows you

only to listen

to the messages being sent by your GNSS receiver. If you are using any other functionality, it won't be affected by it. Use this port for real time sensitive applications.
Parameters
To configure your Ethernet NTRIP Master, you should set its parameters:
Plug the Ethernet NTRIP Master board into your GNSS receiver XBee socket, power your GNSS receiver.
Connect the microUSB cable to your Ethernet NTRIP Master and your PC, a flash drive will appear
Fill the form below with your network and NTRIP client configuration
Press the Generate parameter file
Drag and drop the generated file on your Ethernet NTRIP Master flash drive.
Make sure the name is Ethernet_NTRIP_Master_parameters.txt
Wait 10 seconds and restart your Ethernet NTRIP Master device by pressing the XBEE RESET button  on your receiver

(

not

 the 

BOOT

 button on you Ethernet NTRIP Master)

. If you have a simpleRTK2B Lite, unplug the USB cable and replug it.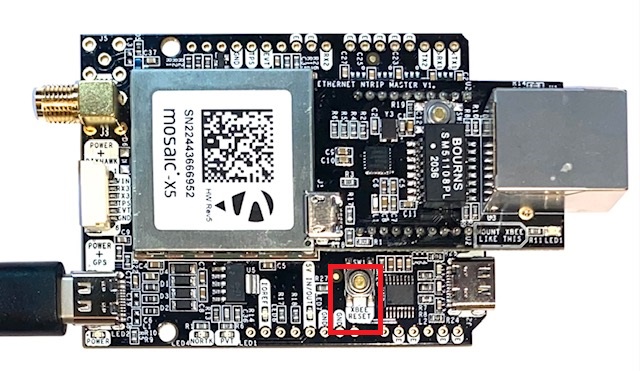 You can also read previous generated files by pressing the Read parameter file button.
General settings
Enable to check periodically for Internet connection availability and restart connection if necessary.
PointPerfect settings
PointPerfect Client ID *You will need to drag and drop the .json credentials from Thingstream in the Ethernet NTRIP Master memory
NTRIP Client settings
NTRIP Caster name
Server port
NTRIP credentials
NTRIP mountpoint
TCP socket client settings
TCP server hostname
TCP server port
UDP socket client settings
UDP server hostname
UDP server port
NTRIP Server settings
NTRIP Caster hostname
Caster port
NTRIP Server credentials
NTRIP Server Mountpoint
NTRIP Server string (optional)
FTP settings
FTP hostname
FTP username
FTP password
FTP folder
Check if parameters changed at the FTP every minutes
TCP/UDP Server settings
TCP/UDP Server is always enabled.
*Connect via TCP to port 28784 to listen and talk to your GNSS receiver.
Connect via TCP to port 28785 to listen to your GNSS receiver, not recommended for real time applications.
Connect via UDP to port 28786 to listen to your GNSS receiver, recommended for teal time applications.
If using DHCP, your module IP address is shown at startup via the Ethernet NTRIP Master USB port

*NTRIP Client will be temporally disabled while there are active connections on port 28784. Will resume automatically once all connections are closed.