We want to thank all the backers and community members to participate in the survey about the IP65 antenna length.
60 backers have participated in the survey and here are the results: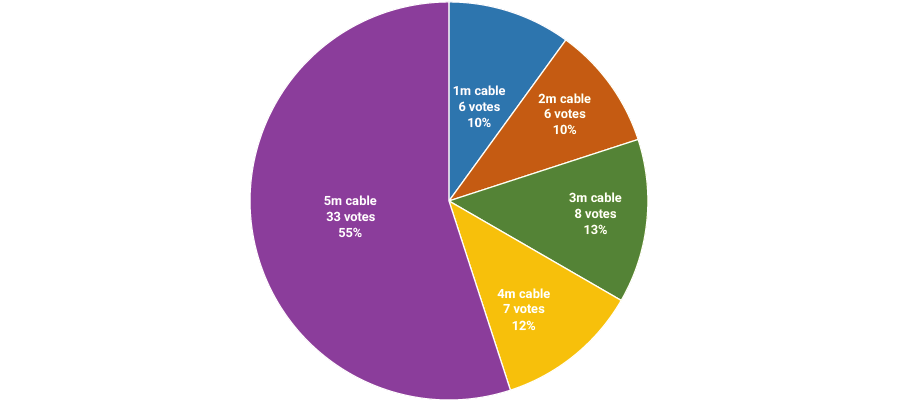 The most voted option, by far, is the 5m cable and we will update it accordingly.
We can't edit the product description in the Kickstarter main page, so these are the technical specifications:
OEM antenna:

39cm cable length
Non-magnetic base
Download the 3D model here

IP65 antenna:

5m cable length
Magnetic base
IP65 cover
The performance of the two antennas is the same:
Environmental conditions

Operation temperature -20ºC to 65ºC
Storage temperature -30ºC to 75ºC
Relative humidity 40% to 95%

Electrical specifications

Operation voltage Min: 2.5V Typ: 3.0V Max: 5.5V
Current consumption @ 3.0V Typ: 20mA Max: 40mA

Cable & Connector

RF Cable (80 Braid) RG174, ⌀2.7±0.2mm , L = 390±4mm
RF Connector SMA 180º(M)

Antenna

Supported bands L1: 1575.42MHz, L2: 1227.6MHz
Gain: 1575.42MHz: +4.0dBi Typ, 1227.6MHz: +1.5dBi Typ
Polarization RHCP
Axial Ratio 4.0dB Max
Before the campaign ends we will publish a comparison with other commercial GNSS multiband antennas.
By default all our kits have the OEM GNSS multiband antenna with a 38cm cable.
If you wish to upgrade the OEM antenna to the IP65, please add manually 17€ (single antenna) or 34€ (for kits) to your current pledge.